The Little Husky Cheer Clinic is coming up in January 2022. Watch for flyers coming home shortly in K-5 student take home folders.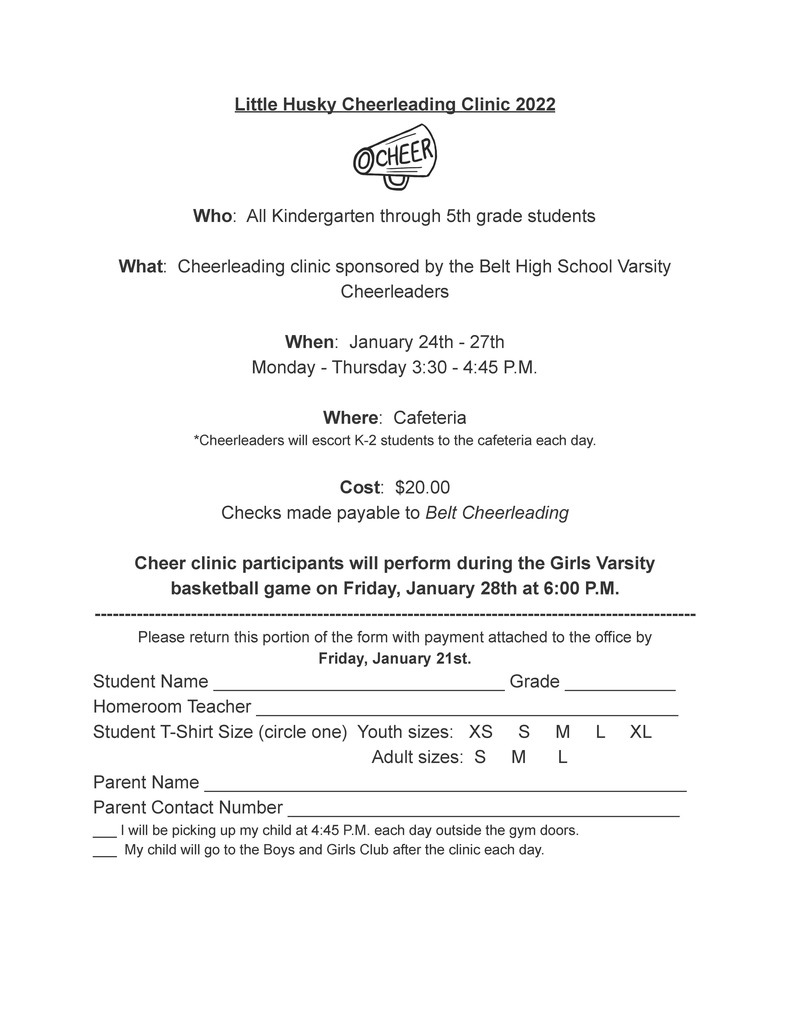 The Belt School cheerleaders organized a fundraiser to help benefit the Denton School System in response to the tragic fires the Denton community was hit with this past week. Students and staff brought monetary donations and were in turn allowed to wear their hat all day in school. In just one day the fundraiser brought in $1,000. All proceeds will benefit the families of the Denton School System. Thank you to our cheerleaders, students, and staff on a great act of kindness and thoughts and prayers to the Denton School and Community.
Saturday, December 4th, is the annual Christmas Stroll in Belt, MT. It will be a fun-filled, festive day. Events start at 8:00am with Breakfast with Santa and continue throughout the day. The Stroll will wrap up with the tree lighting at 7:00pm. Come out and have some fun, there is something for everyone!

In an effort to support the Denton community that was tragically impacted by a wildfire earlier this week, the Belt Students & Staff can bring $1.00 (or more) to wear a hat at school on Friday (12/3). The cheerleaders will be taking donations outside the cafeteria in the morning. All proceeds will benefit the families of the Denton School System.

The school play, "The Comedy of Errors" is this Saturday (12/4) night at 7:30 pm at the Belt Theatre. There will also be a matinee performance on Sunday (12/5) at 2 pm.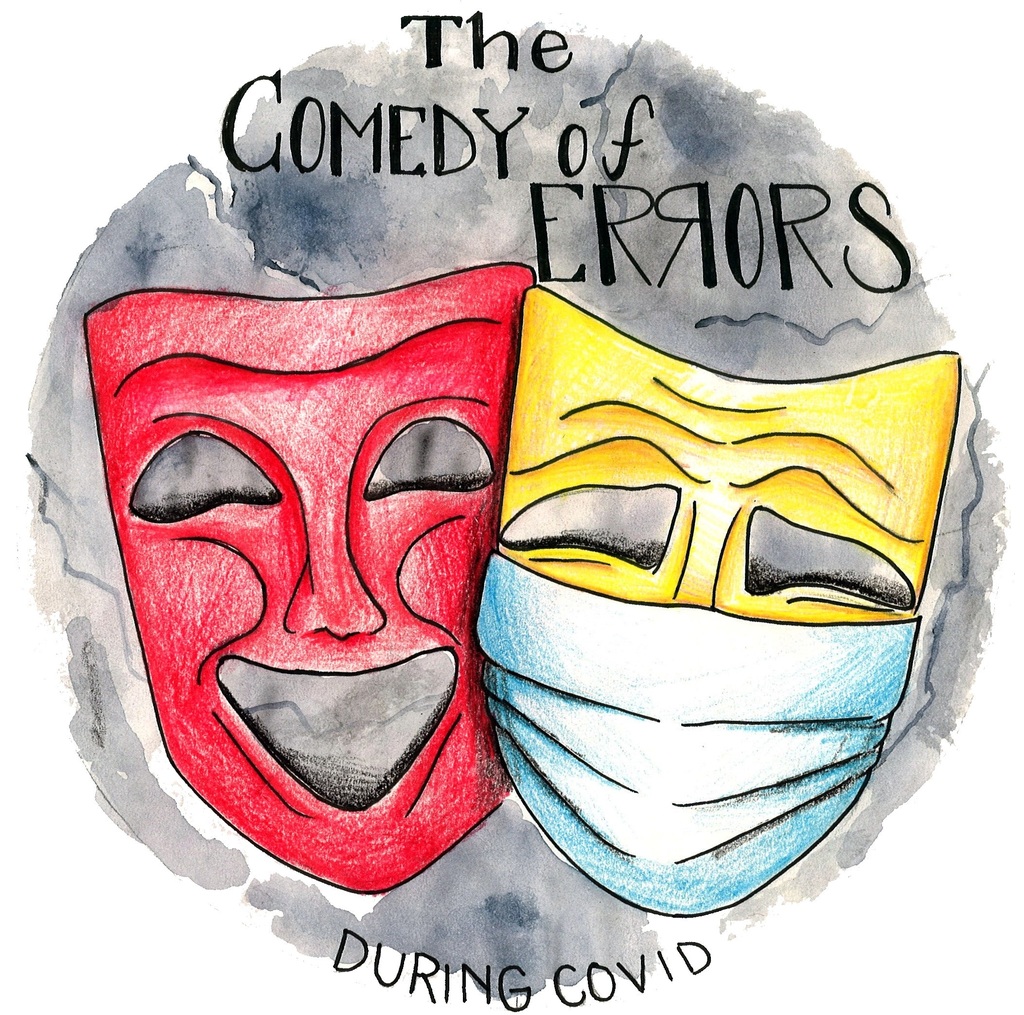 Happy Thanksgiving to the Belt students, staff and community. Enjoy the break and we will see you all on Monday, November 29.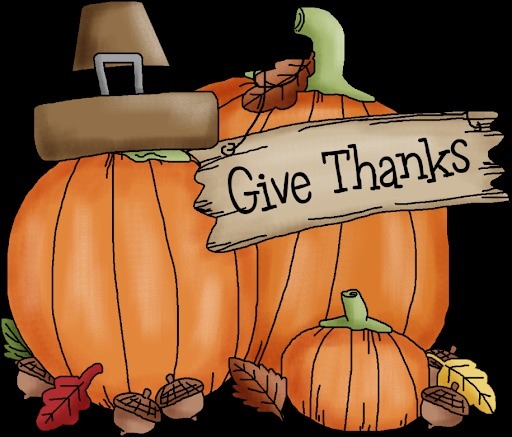 A reminder that this Wednesday, 11/17/21, is an early-release for students at 12:31 p.m. Staff will attend PIR training from 1:00-4:00 p.m. Also, there will be no school on November 24-26 for Thanksgiving break.
Congratulations to all of our Fall sports team on successful seasons. We appreciate your discipline, time and energy you put into being Huskies! Best of luck as we begin our winter seasons!
Everyone is welcome to join us as we honor our veterans during the Veterans Day Program this Thursday, Nov 11, at 2:30pm in the Belt School Main Gym.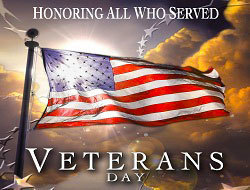 Best of luck to all of our Huskies today. The volleyball team has a Northern C Divisional matchup at 10:00am versus Simms in Belt. The football team kicks off quarterfinal playoff action in Thompson Falls at 1:00pm. Go Huskies!
The Belt Federation of Teachers is pleased to announce that thanks to the generosity of Belt teachers, staff, and community members, we raised over $1500 with our 2021 Basket Fundraiser! That is enough to provide 3 scholarships for Belt students who are studying to become teachers! This scholarship is open to Belt seniors (class of 2022) and Belt students currently in college pursuing a degree in Education. Thanks again to all who participated in this fundraiser!
Northern C Divisional VB in Belt- Ft Benton defeated Simms 25-22, 25-18, 25-23 Geraldine/Highwood defeated Belt 25-16, 25-18, 20-25, 25-18 The tournament continues tomorrow with the first game at 10:00am between Chester-Joplin-Inverness vs. GFCC followed by Valier vs Chinook. Belt girls will play at 1:00pm
Update on the Northern C Divisional VB Tournament at Belt Match 1 - Simms 3-0 over CJI Match 2 - Ft Benton 3-0 over GFCC Match 3 - Geraldine/Highwood 3-1 over Valier Match 4 - Belt 3-0 over Chinook Tonight's games will be Simms v Ft Benton at 6:00pm followed by Geraldine/Highwood vs Belt.
A reminder that Belt School is hosting the Northern C Divisional Tournament Thursday, Friday and Saturday this week. There is much heavier traffic than usual and the parking lots are full. During pick-up time after school please be aware of this. You may have to park and walk over to the pick up area to get elementary students.
Belt Federation of Teachers sponsored a Basket Raffle to raise money to provide scholarships for Belt graduates who are pursuing degrees in the field of education. Baskets were created by Belt teachers, staff, and community members. Most of the baskets have been picked up, if you won and have not yet picked up your basket please make arrangements to do so. Baskets may be picked up at the school office during regular school hours. Thanks to all who contributed to this fundraiser!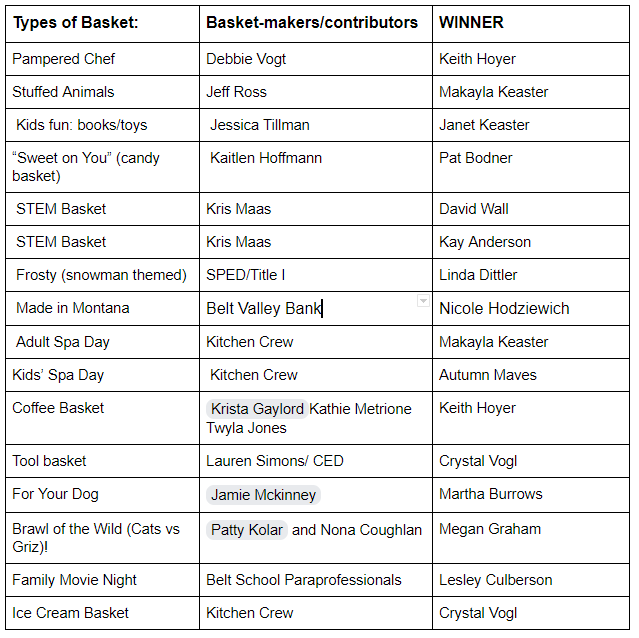 A shout out to the following students who made it into the North Central Montana Honor Band and Choir: Luke Highfill, Gracie Watson, and Hattie Bumgarner made the choir. Molly Tingey, Johnny Tingey, Danika Lords, Nate Gill and David Bond all made the band. The musicians will spend November 29 & 30 rehearsing and will then perform a final concert at 6:30pm on November 30 in Choteau. We also had three students make the All-Northwest Honor Choir: Molly Tingey, Emerson Hoerner, and Olivia King. They will travel to Spokane, WA in March to perform. Congrats to Mr. Wilson and all of these students on receiving this honor.

The Northern C Divisional Volleyball Tournament is Nov. 4-6 in Belt. PASS PRICES All Session Pass (White Speckled) Adult………….……$30.00 (Yellow) Senior/Student…………….....$25.00 Single Session (Stamp) Adult………………….…$8.00 Senior/Student…………..$6.00 **Passes will be sold at the event only. **NO PASSES will be accepted including MCA & Northern Division. **No Senior Citizen passes will be accepted.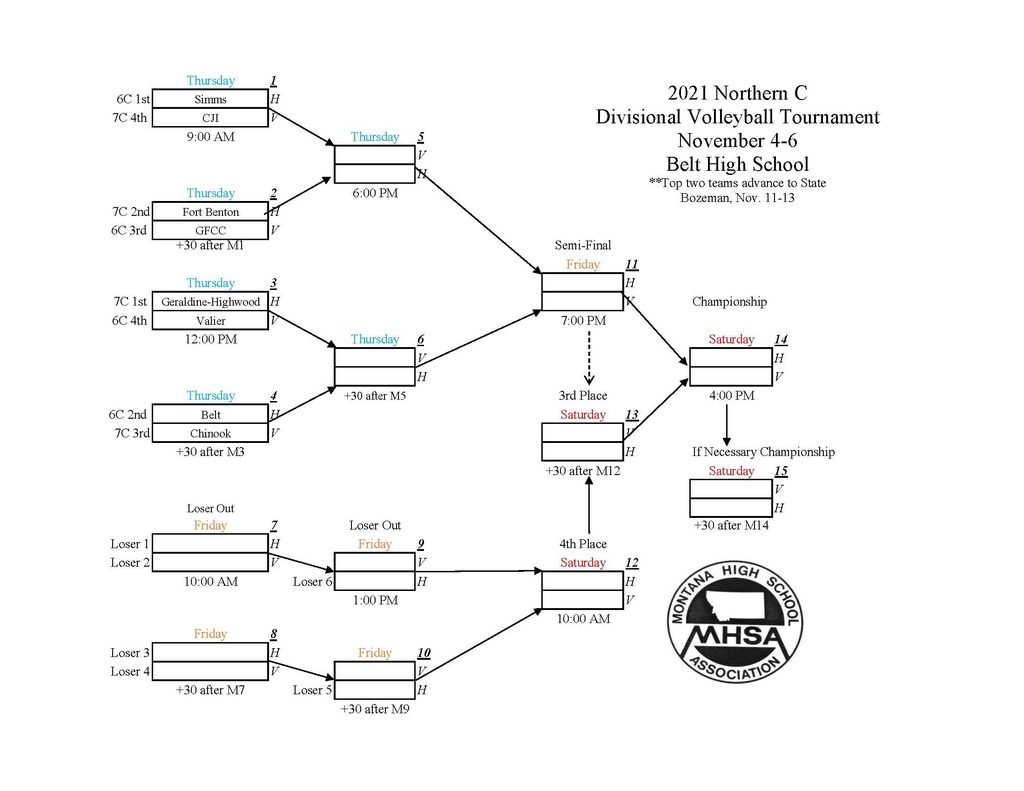 Congrats to our Huskies! The volleyball team took 2nd place at the District 6C tournament in Simms and will advance to the divisional tournament this coming week in Belt. Our football team defeated Culbertson and will travel to Thompson Falls next weekend. Great job and best of luck to our Huskies!
The Belt Lady Huskies volleyball team beat Valier last night (3-0) and will face Simms tonight at 6:00 p.m. at the District 6C tournament in Simms. The football team takes off today for their playoff game in Culbertson Saturday at 1:00 p.m. Good luck and go Huskies!

The Husky Football Team travels to Culbertson this Saturday (10/3) for a 1st Round Playoff Contest @ 1pm. Use the QRS code in the image to obtain a digital copy of the program.