A reminder that the Belt Community Swimming Pool fundraiser "Breakfast with Santa" will be held at the Belt School Saturday, December 3rd from 8:00am-11:00am in the school cafeteria. Proceeds will go to the Belt Community Swimming Pool. In conjunction with this event the Belt School will be hosting elementary basketball games in both gyms from 9:00am-3:00pm. There will also be a kids' movie at the Belt Theater at 4:00pm as part of the Belt Christmas Stroll. Everyone have a fun and safe weekend!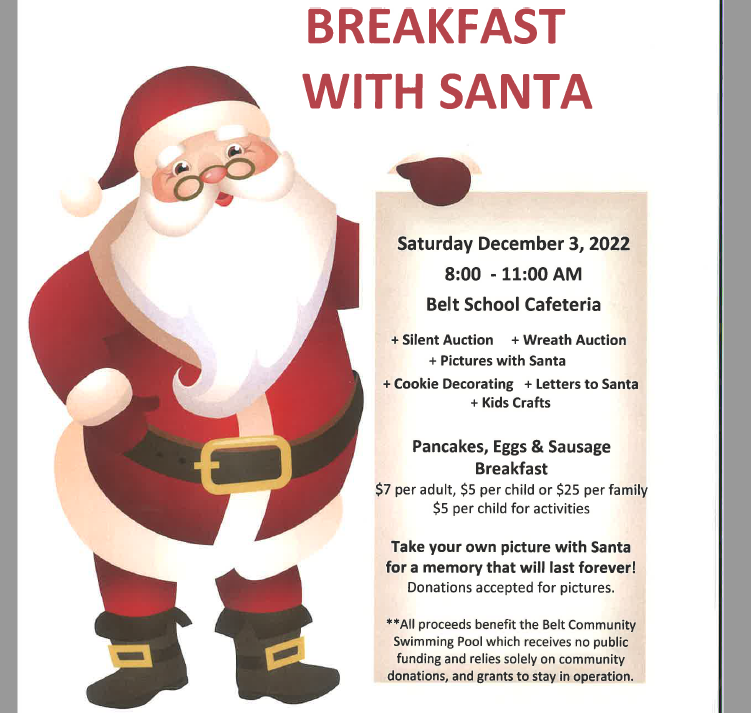 A reminder for students and families that we will not have school November 23, 24, and 25. Everyone please have a safe Thanksgiving break and we will see you back in school on Monday, November 28. Happy Thanksgiving!!!
Congratulations to the undefeated Belt Husky football team on their 8-Man State Championship victory over St. Ignatius. We will host a celebration dinner at the school cafeteria Monday (11-21) at 6:00pm. The Booster Club will provide chicken and the rest will be potluck style so please bring a salad, dessert, or other time and come celebrate the win. Thank you and congratulations to the Huskies on an amazing season!!
This Wednesday, 11/16/2022, will be an early-release for students. School will release at 12:31pm for staff training and professional development. Also, a reminder that next week is Thanksgiving and there will be no school (Nov. 23-25) Wednesday, Thursday or Friday for Thanksgiving Break.

Belt School is offering an Adult Education Yoga class in the evenings beginning this upcoming January. See the attached flyer or call the school for more information.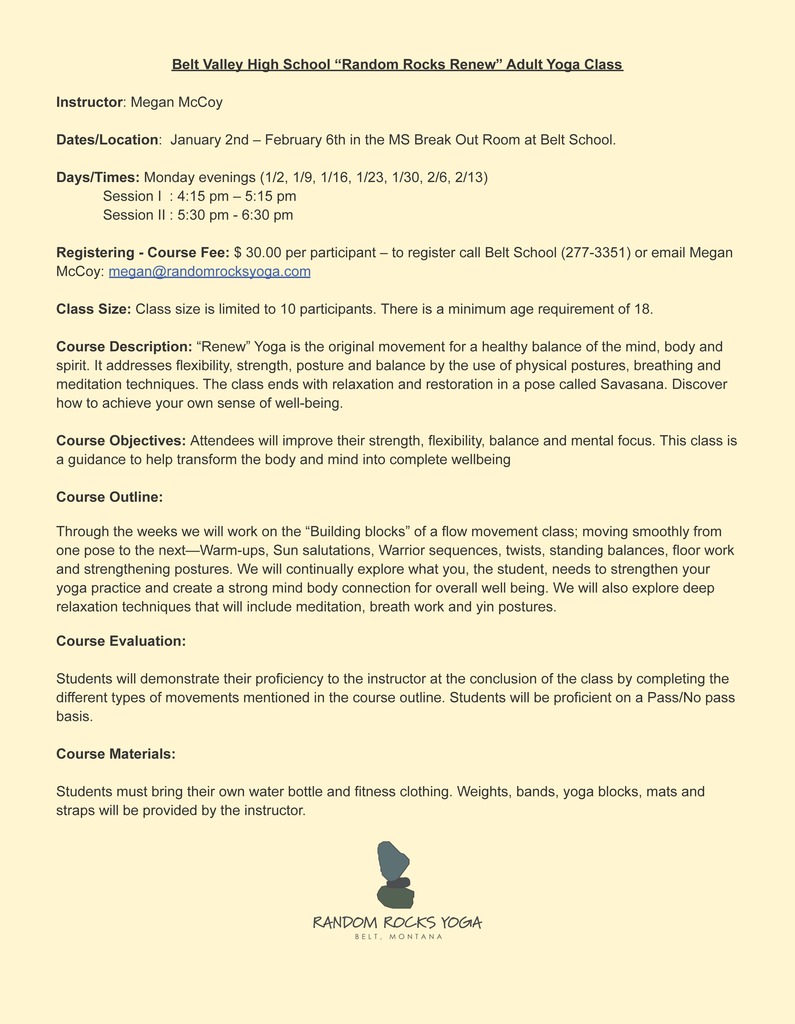 The Booster Club needs help with selling concessions for the home football playoff game this Saturday at 1:00pm. If you are willing to help out please contact Jill Gliko by calling the school or emailing her at
jgliko@beltschool.com
. Your help would be greatly appreciated!

Good luck to our girls volleyball team as they travel to Bozeman this Thursday (11/10) for a first round contest at 4 pm in the state volleyball tourney and to our football team as they play in state playoff semi-finals at home this Saturday @ 1 pm. Go to
https://www.mhsa.org/
to find links to post season brackets.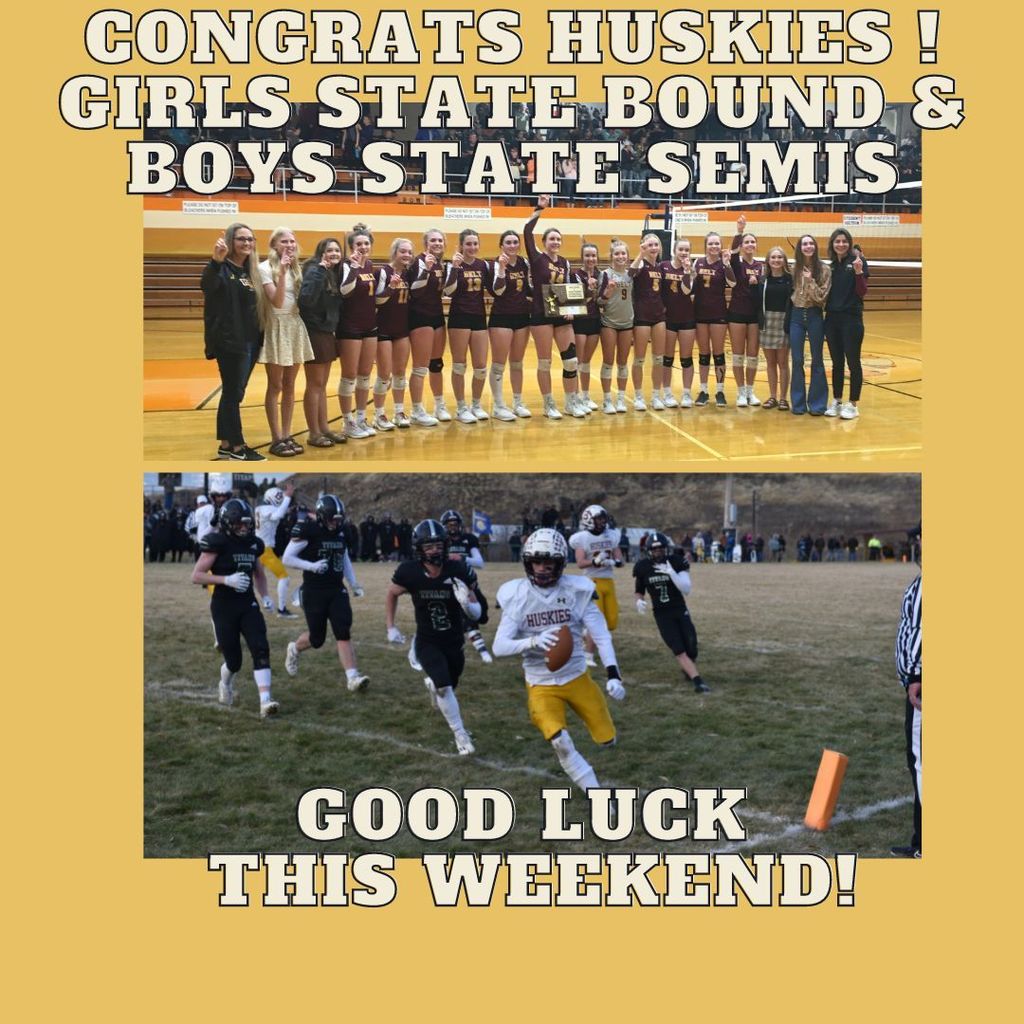 Congratulations to the Lady Huskies on advancing to the semi-final of the Northern C Divisional volleyball tournament in Chinook. They will play the Chinook Sugarbeeters tonight at 7:00pm. Good luck!
Good luck to our Huskies this weekend. The Lady Husky volleyball team will play at noon today versus Big Sandy at the Divisional tournament in Chinook. The top two teams will advance to the State tournament in Bozeman. The boys will head to Phillipsburg for a Saturday 1:00pm kickoff versus Flint Creek in 8-Man quarterfinal action.
Happy Halloween! The annual Halloween Parade will be at 3:15pm in the gym. Also, there will be two Trunk-or-Treat events happening during trick-or-treating tonight. One will be held in the parking lot near the hardware store and the other will be held in the parking lot near the pool. Everyone is welcome to stop by and enjoy some treats. Please have a safe and happy Halloween!
Congratulations to the Husky Football team on their first round playoff win over Charlo on Saturday as well as being the Northern C champions on the season. The Huskies advance to the quarter final game @ Phillipsburg versus Flint Creek on Saturday, November 5 at 1:00pm. Good luck Huskies!
Congratulations to the Lady Husky Volleyball team for their first place finish at the District 6C tournament as well as being the season Conference Champs. They will play Thursday at 12:00pm vs Big Sandy in the Northern C Divisional Tournament held at Chinook High School, November 3-5. Two teams from the Divisional Tournament will advance to State. Good luck Huskies!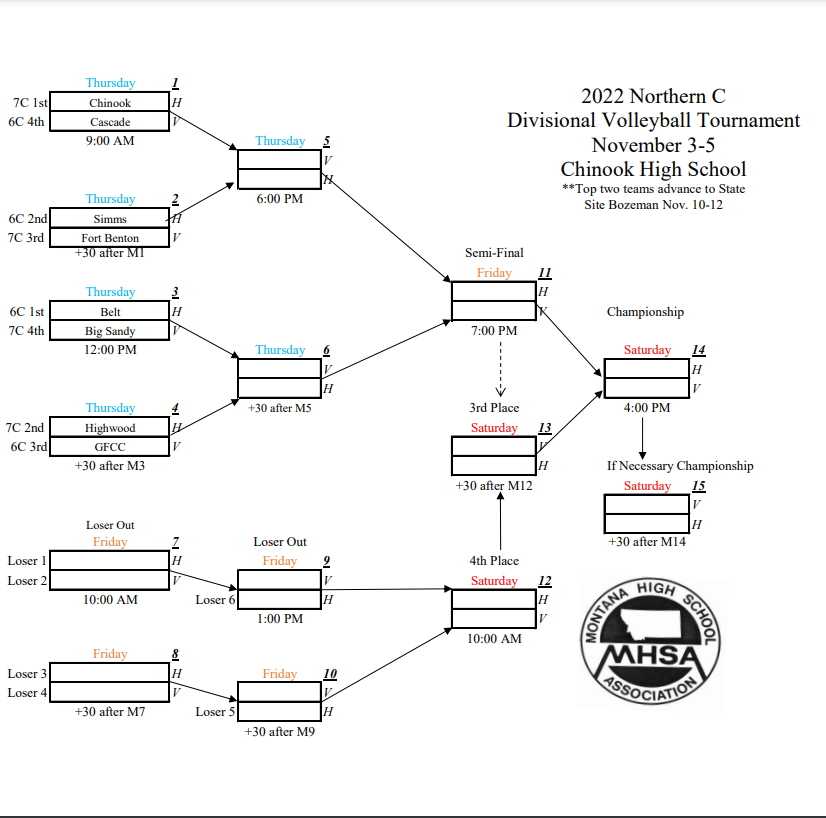 The Lady Husky Volleyball team came out on top in their match last night against Power-Dutton-Brady and will face GFCC tonight at 6:00pm in an undefeated matchup. The winner advances to the championship Saturday at 2:00pm. Good luck Huskies!
The annual K-5 Halloween Parade will be held on Monday, October 31, at 3:15pm. The community is welcome to come and enjoy the show!
Tickets for the 8-Man Football Playoff Game on Saturday, Oct. 29th (1:00pm in Belt) against Charlo may be purchased electronically or at the gate. Ticket prices are $7.00 for adults and $6.00 for students. NO passes will be accepted because this is a post-season competition. To purchase tickets electronically, go to GoFan.co and search for MHSA and then the Belt versus Charlo game. Please note there is an additional fee associated with purchasing tickets electronically. Good luck Huskies!
The Belt Lady Huskies volleyball team won (3-0 v Sunburst) their first game of the District 6C Tournament held at Great Falls Central Catholic and will play Power-Dutton-Brady tonight at 6:00pm. The top 4 teams will advance to the Divisional Tournament in Chinook November 3rd-5th. Good luck Huskies!
A reminder that Oct 24 & 25 are Parent/Teacher conferences. The conferences are a great time to touch base with your child's teachers and get an update on how the school year is going so far. The MS and HS teachers have an open schedule and parents can walk-in, the Elementary teachers have scheduled times for parents to stop in. Conferences run from 4:00-7:00pm. If you have any questions please contact the school office.
Good luck to the Lady Husky VB team as they head to the District 6C tournament at Gt. Falls Central Thursday, Oct 27, at 10:00am. The top four teams will advance to the Divisional Tournament in Chinook November 3-5.
Good luck to the our Huskies as the 8-man football playoffs kick off this Saturday at 1:00pm when Belt hosts Charlo. The game will broadcast on KMON Radio (560am and kmon.com) as well as the NFHS network.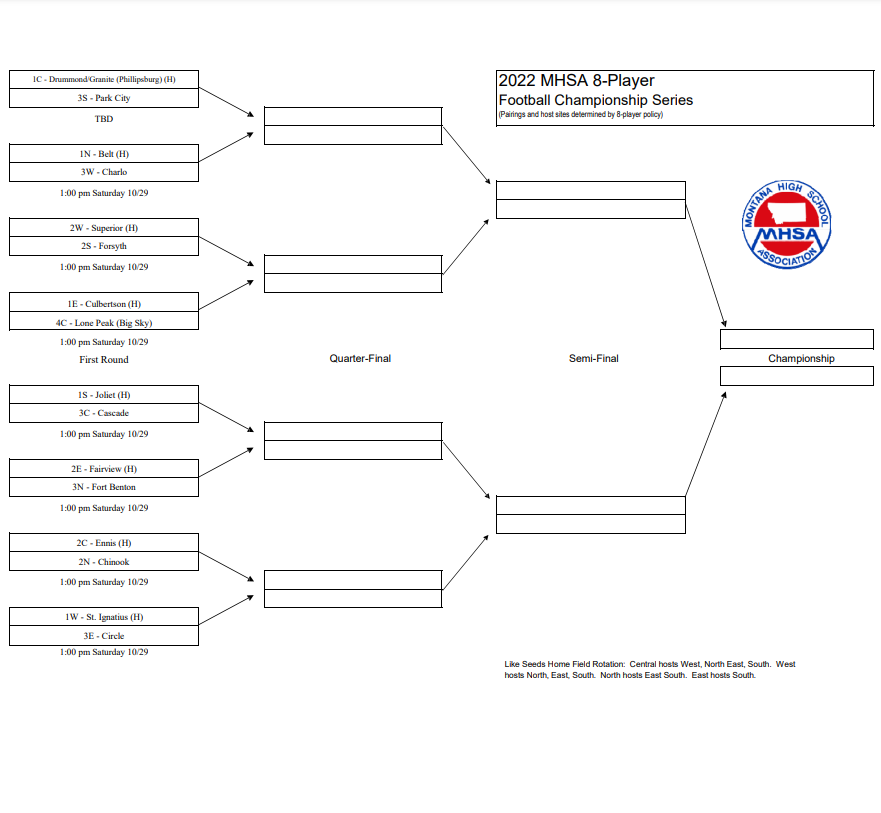 Congrats to the cross country teams this past weekend at the State C meet in Missoula. The boys finished fourth overall and the girls finished 10th overall. Congrats to Clayton Jassen for his 8th place finish with a time of 18:00.03.